Yamaha Full Size Classical Guitar CG162C ( CG 162 C / CG162 C / CG 162C ) - N / Natural
Price

RM1,638.00

RM2,180.00

Brand
Yamaha
Availability
4
Quantity

This product has a maximum quantity of 10
Description
Highlight
This is an intermediate model with ovankol applied to side / back. Its unique attractiveness comes from the series design concept and beautiful figure of ovankol. Yamaha CG Shape Solid Western Redcedar Top Ovankol Back & Sides Nato Neck Rosewood Fingerboard
We are happy that you are here, and we hope you will find the musical instrument of your dreams. We have made every effort to provide you with the finest instrument at the lowest possible price. We strive to provide the best possible service that you would expect when searching for your dream piano or instrument.
Cornerstone Music Sdn Bhd is an Authorized Dealer for Yamaha, LINE 6, Epiphone, Gibson and Fender. We have a large selection of Grand Piano, Upright Piano, Digital Piano, Keyboard, Classical Guitars, Acoustic Guitars, Electric Guitars, Bass Guitars, Acoustic Drums, Digital Drums and many more.
Kindly contact our products specialist
Address: S23 and S23A, Second Floor, Jalan ss 22/23,Damansara Jaya , 47400 Petaling Jaya , Selangor
Tel : 1.7.0.0.8.1.5.5.7.7
H/P / Whats apps:
0.1.2.2.2.2.1.9.8.2 D.A.N.I.E.L
0.1.2.5.1.6.3.0.3.4 M.A.L.C.O.L.M
0.1.6.8.4.0.2.7.7.6 A.S.H.L.E.Y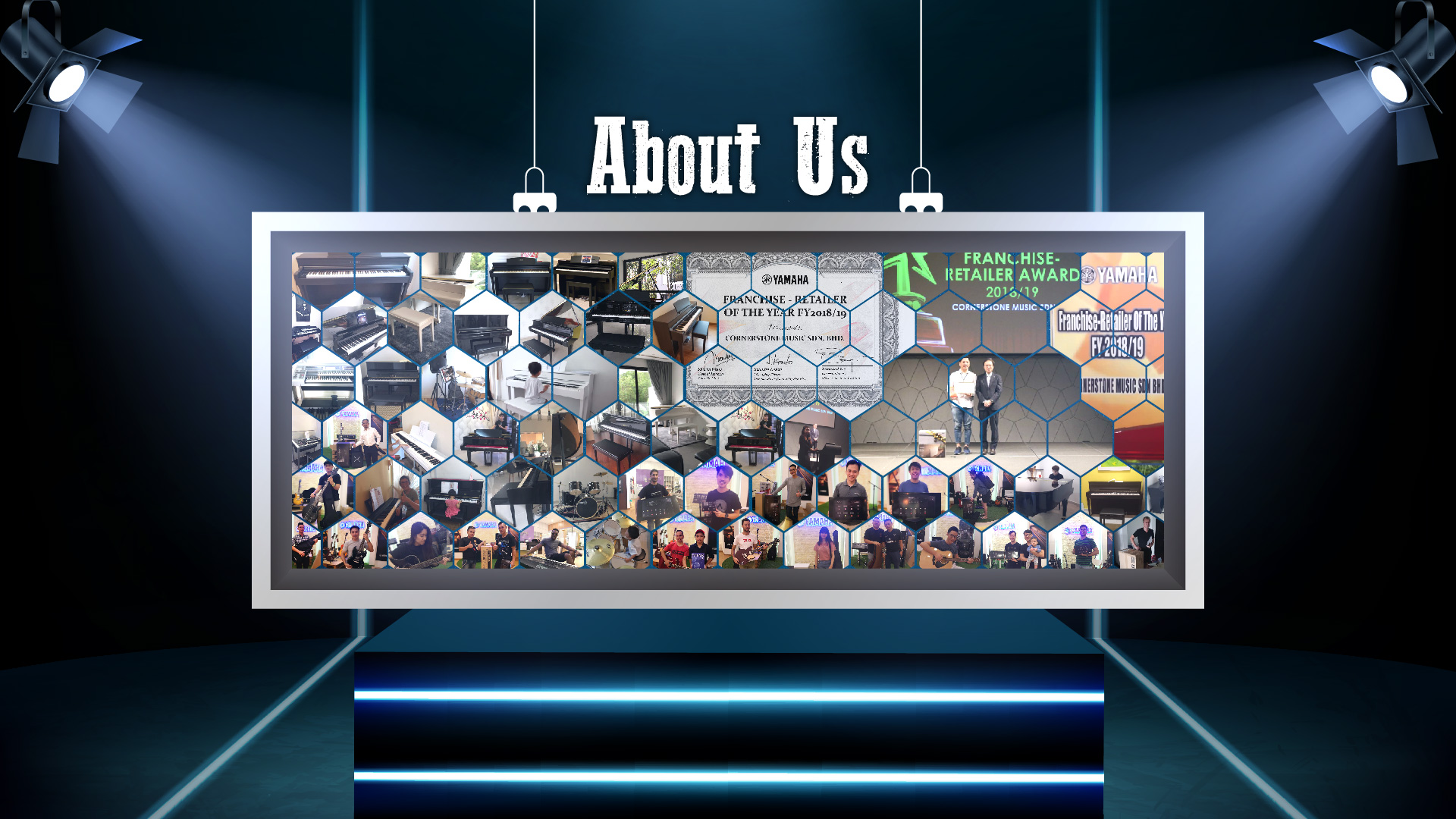 We have a very good review across Malaysia


CG162C
This is an intermediate model with ovankol applied to side / back. Its unique attractiveness comes from the series design concept and beautiful figure of ovankol.
Yamaha CG Shape
Solid Western Redcedar Top
Ovankol Back & Sides
Nato Neck
Rosewood Fingerboard
New bracing pattern, thinner bridge plate
The new CG series features a new bracing pattern that delivers excellent response and rich resonance. These guitars also feature a bridge plate that efficiently transfers string vibration to the guitar top.

Top material
All models in the new CG series lineup are available with either a spruce or cedar top. You can choose the top according to your preferences for tone or wood texture.
Spruce: Clear fundamental tone. Massive tone with great variation according to touch. Tone improves as the wood matures.
Cedar: Bright, warm tone. Excellent response with relatively thick treble. Cedar offers a mature tone with little change over time, providing a high level of perfection.

Stable Neck Condition
Necks utilize a strong 3-ply laminate design that resists warping and twisting. This design improves neck strength, offers greater stability against shape changes over time, and allows lower string height. In addition to providing greater neck stability, the laminated design also makes effective use of resources.
The matte finish on the back of the neck allows the left hand to move smoothly while also providing a secure grip. The finish is applied with a thin coat that contributes to improved resonance. The same matte finish is applied to the bridge for improved resonance.

Saddle fit
Years of experience and original technologies have brought improvements to our saddle and saddle slot design. Crafting these components with great precision provides a highly accurate fit that improves attack and sustain while reducing string vibration loss to transfer rich resonance to the body.
CG162C
Body Shape
Yamaha CG Shape
Scale Length
650mm (25 9/16")
Body Length
490mm (19 5/16")
Total Length
995mm (39 3/16")
Body Width
370mm (14 9/16")
Body Depth
94-100mm (3 11/16" - 3 15/16")
Nut Width
52mm (2 1/16")
String Spacing *
11.8mm
Top Material
Solid Western Redcedar
Back Material
Ovankol
Side Material
Ovankol
Neck Material
Nato
Fingerboard Material
Rosewood
Fingerboard Radius
Flat
Bridge Material
Rosewood
Nut Material
Urea
Saddle Material
Urea
Bridge Pins
None
Tuners
Gold(RM-1157G-50XA)
Body Binding
Rosewood + Black + White
Soundhole Inlay
Rosette
Pickguard
None
Body Finish
Gloss
Neck Finish
Matt
Electronics
None
Controls
None
Connections
None
Strings
Trebles:High / Basses:Medium(Yamaha S10)
Accessories
None
Case
None
What's in the box
GCG162C
Atria Shopping Gallery
S23 & S23A Second Floor Jalan SS 22/23,Damansara Jaya 47400 Petaling Jaya.Selangor.Malaysia
WhatsApp 012-2221982 Daniel | WhatsApp 012-5163034 Malcolm | WhatsApp 016-8402776 Ashley | Office-phone 1700 81 5577