Yamaha Electric Classical Guitar NCX-2000 FM ( NCX2000 FM / NCX 2000FM / NCX2000FM ) with Carrying Bag - N / Natural
Price

RM18,770.00

RM22,090.00

Brand
Yamaha
Availability
Quantity

This product has a maximum quantity of 10
Description
Highlight
NCX2000FM This top-of-the-line model is designed and crafted drawing on the vast knowledge, craftmanship, and expertize acquired from over 40 years of hand crafting classical Spanish guitars. Its stunning nylon tone is faithfully reproduced with all its beauty and depth through an advanced electronics and pickup system designed by Yamaha. Classical Guitar Body Cutaway (NCX Body) Solid Flamed Maple Back & Sides African Mahogany Neck Ebony Fingerboard Recreate Natural Tone and Dynamics by ART 2-way Pickup System Reinforced Carrying Bag Included Made in Japan
We are happy that you are here, and we hope you will find the musical instrument of your dreams. We have made every effort to provide you with the finest instrument at the lowest possible price. We strive to provide the best possible service that you would expect when searching for your dream piano or instrument.
Cornerstone Music Sdn Bhd is an Authorized Dealer for YAMAHA, LINE 6, Epiphone, Gibson and Fender. We have a large selection of Grand Piano, Upright Piano, Digital Piano, Keyboard, Classical Guitars, Acoustic Guitars, Electric Guitars, Bass Guitars, Acoustic Drums, Digital Drums and many more.
Kindly contact our products specialist
Address : S23 & S23A , Second Floor , Jalan ss 22/23 , Damansara Jay , 47400 Petaling Jaya , Selangor
Tel : 1.7.0.0.8.1.5.5.7.7
H/P / Whats apps:
0.1.2.2.2.2.1.9.8.2 D.A.N.I.E.L
0.1.2.5.1.6.3.0.3.4 M.A.L.C.O.L.M
0.1.0.4.0.0.8.9.7.9 H.E.N.S.L.E.Y
0.1.6.8.4.0.2.7.7.6 A.S.H.L.E.Y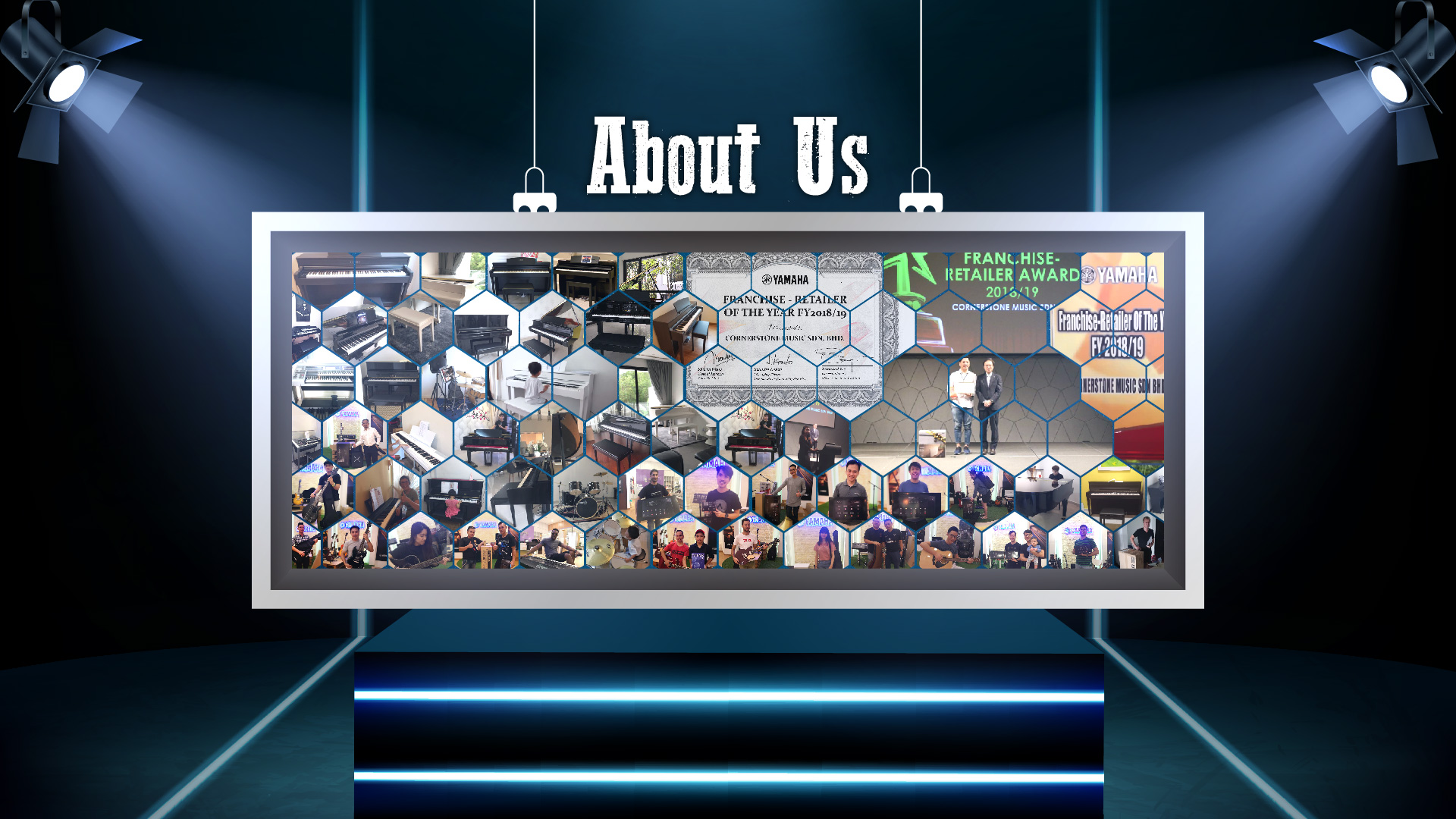 We have a very good review across Malaysia

Nylon Inspiration
Combining a contemporary design with meticulous attention to detail, the NX Series offers the superb playability and feel of an authentic classical guitar in a modern instrument. The NX Series comprises two lineups: NCX guitars, with classical style fingerboards, neck shape, and body thickness, and the thinner-bodied NTX lineup with a narrower neck and 14th fret neck joint. A.R.T. pickup system perfectly captures the warm resonant tone, allowing you to bring the unmistakable nylon string sound to a diverse range of genres, from latin to jazz, pop to rock.
NCX2000FM
This top-of-the-line model is designed and crafted drawing on the vast knowledge, craftmanship, and expertize acquired from over 40 years of hand crafting classical Spanish guitars. Its stunning nylon tone is faithfully reproduced with all its beauty and depth through an advanced electronics and pickup system designed by Yamaha.
Classical Guitar Body Cutaway (NCX Body)
Solid Flamed Maple Back & Sides
African Mahogany Neck
Ebony Fingerboard
Recreate Natural Tone and Dynamics by ART 2-way Pickup System
Reinforced Carrying Bag Included
Made in Japan
A.R.T. Pickup System (for NX2000,1200,900,700)
Our A.R.T. pickup system is used on a number of our steel string guitars and has received high acclaim for its superb sound quality, incredible dynamics, and outstanding feedback rejection. Our engineers designed the A.R.T. System 61 especially for the NX Series, to faithfully reproduce the tone and dynamics of nylon strings. Combining a number of exclusive technologies, the A.R.T. system affords the NX Series the versatility to accommodate an incredible range of playing styles from fingerstyle to pick to percussive flamenco, all while retaining the natural tone of the guitar.
Newly Developed Contact Pickup
A conventional contact pickup mounted underneath the saddle vibrates freely allowing it to pick up the natural body sound. On the other hand, it can pick up too much body sound resulting in feedback making positioning difficult.
By comparison the A.R.T system used on the NX Series guitars utilizes a multilayer damper in order to absorb excessive vibrations and control feedback. System 61 consists of two pickups mounted on the high and low sides of the guitar, each with its own control to provide the NX Series guitars with flexible tone tailoring.
Newly Developed Preamp System
Complementing the characteristic warmth and full mid-range tone of the nylon string guitar, the System 61 preamp uses Yamaha's class-leading technology to offer an easily controllable, wide tonal range, making the sound of the NX perfect for any show or playing style.
The preamp offers individual volume control for both pickups, delivering a totally natural sound with robust lows and clear highs. A built-in 3-band EQ offers powerful sound shaping while an on-board tuner provides excellent usability during performance.
Under-saddle Piezo Pickup (for NX500)
Yamaha exclusive under-saddle pickup with the SYSTEM73 preamp provide solid and cut-through plugged-in sound in a band.
NCX2000FM
Body Shape
Yamaha CG Cutaway Shape
Scale Length
650 mm (25 9/16")
Body Length
490 mm (19 5/16")
Total Length
990 mm (39")
Body Width
370 mm (14 9/16")
Body Depth
94-100 mm (3 11/16" - 3 15/16")
Nut Width
52 mm (2 1/16")
String Spacing *
11.8 mm
Top Material
Solid Hokkaido Spruce with A.R.E.
Back Material
Solid Flamed Maple
Side Material
Solid Flamed Maple
Neck Material
African Mahogany
Fingerboard Material
Ebony
Fingerboard Radius
Flat
Bridge Material
Ebony + Rosewood
Nut Material
Bone
Saddle Material
Bone
Bridge Pins
None
Tuners
Gold w/ Black Shaft (35G1800-BB)
Body Binding
Maple + Rosewood
Soundhole Inlay
Abalone + Mahogany + Padauk
Pickguard
None
Body Finish
Gloss
Neck Finish
Matte
Electronics
SYSTEM61 + ART 2-Way Pickup
Controls
Master Vol/Bass Vol/Treble Vol/3-Band EQ/Tuner
Connections
LINE OUT
Strings
Medium (Yamaha S10)
Accessories
Sound Hole Cover, Hex Wrench, 9V(006P) Battery
Case
Reinforced Carrying Bag
What's in the box
Yamaha Electric Classical Guitar NCX2000FM - Natural
Atria Shopping Gallery
S23 & S23A Second Floor Jalan SS 22/23,Damansara Jaya 47400 Petaling Jaya.Selangor.Malaysia
WhatsApp 012-2221982 Daniel | WhatsApp 012-5163034 Malcolm | WhatsApp 016-8402776 Ashley | Office-phone 1700 81 5577